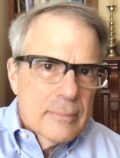 One fine evening in 1957, after stock prices collapsed and my grandfather's railroad shares cratered, he took a rope down to the basement of his house in the Oxford Circle section of northeast Philadelphia–a basement smelling of scorched cotton from the mangle that my grandmother ironed sheets with–knotted the rope around an overhead pipe and hanged himself.
According to family lore, he had just told my grandmother, nonsensically, that "There's enough for one but not for two." "He did it, he did it," my grandmother screamed at her sons through the mouthpiece of her black rotary phone.
The market bounced back quickly but not the family. When my grandfather died, I lost an intimate. I had sat on his lap and watched him smoke a cigar and read the Evening Bulletin, licking his thumb to turn the page. I lost a champion. He paraded me down Castor Avenue, introducing me to every shop keeper as the world's single most remarkable grandchild. The deli owners paid tribute to the dauphin with a slice of salami handed over the counter, a pickle from the fragrant barrel, a delicacy from a wire nest of cookies. My grandfather took me to the broker's too, to sit and watch the flickering marquee lights of the "ticker."
Life was good, then it wasn't. Most photographs of my grandfather, with his deceptive grin and his 'big lunch' ties, disappeared. From then on, the only words I heard my grandmother say about her late husband, whom she married in 1913 and outlived by 35 years, was, "Money, money, money. That was all the man talked about." Of course, the dress shop on Kensington Avenue never yielded much, and my grandmother's younger brothers were clerking for judges and moving to Scarsdale, but that's another story. When I read 'Death of a Salesman' in high school, the characters were, spookily, people I'd known.
There's a point to this sad tale. When I saw on Bloomberg yesterday that the stock market had fallen into "bear market territory," I paid a little attention, but not much. I know the worst that a crash can do, and it's not about money. A bear had eaten my grandfather. I also know, grimly but with no doubt, that despair over the stock market is never justified. Markets recover faster than families, and most families do too, eventually.
© 2022 RIJ Publishing LLC. All rights reserved.